Mind Matters works with a range of partners to bring you the latest in mental health support knowledge and expertise. Mind Matters is pleased to be working with:
CMP is a leading provider of support to people with health conditions. CMP provide clinically derived Health and Well-being services across the welfare-to-work sector, and are a leading independent provider in reablement therapy services.
CMP's approach to delivery is innovative. It combines mental and physical health support with functional-improvement therapy interventions and either a person-centred or an employment-focused support package. The service provides a holistic intervention aimed at a return to productive and meaningful independent and social functioning.
Find out more about Condition Management Partners here
Sully Ali is a certified Performance Coach, Public Speaker & Employability Trainer who specialises in personal one to one leadership coaching. His expertise is around goal setting, beating procrastination, developing a success mindset, overcoming blockages/ limiting beliefs & gaining confidence. His mission is to empower and support people to achieve a more focused outcome in their business or other areas of their life. Sully Ali Coaching supports SME's, individuals, business start-ups and entrepreneurs that have a lack of direction, want more clarity and to be more confident in running their business. As well as supporting businesses Sully also empowers young people in schools and colleges through employability workshops and inspirational talks.
Find out more about Desire to Inspire here
Fit-Biz is about improving the fitness levels of your workforce. They offer a choice of exercise based fi
tness sessions, and innovative sessions which combine exercise and networking! Sessions can be developed to suit all fitness levels and all sessions are delivered by a qualified fitness instructor.
Find out more about improving the physical health and wellbeing of your staff here
Innovating Minds is a social enterprise that specialises in providing accessible psychological support for young people in education, training and employment. Innovating Minds recognise that young people with emotional and mental health needs are not always able to assess the specialist support when they need it. Therefore they provide specialist psychological support within education, training and employment sectors. Experienced Psychologists provide training, group work and offer individual sessions for young people, caregivers and teachers. If you want to know more about what they do take a look at their eye catching website.
Developed, led and supported by employers, MINDFUL EMPLOYER® provides businesses and organisati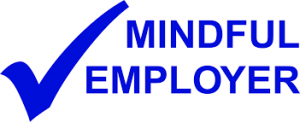 ons with easier access to information and support for staff who experience stress, anxiety, depression or other mental health conditions. Mindful Employer have a charter for employers. Mind Matters is trained to deliver Mindful Employer courses including 'Being a Mindful Manager' and 'Working Well at Work'
Find out more about Mindful Employer here
Monkey Mind Ltd is the brain child of Graham McDowell. It's a break through in measuring and improvin
g workplace mental wellbeing. The Monkey Mind platform provides employers the opportunity to discover the hidden suffering within their people, target appropriate support where it's needed and, in addition to improving the lives of countless people, improve businesses performance by unleashing the un-tapped potential in the people they already have! Find out more about Monkey Mind here
PTSD At Work is a registered charity in England and Wales, which helps people suffering from Post Trauma
tic Stress Disorder (PTSD) manage the challenges they may experience in the workplace. The charity provides grants to small/medium sized businesses throughout England and Wales, so that they can attend training on PTSD and how to best support the mental health of their employees. On completion of the training, PTSD At Work will continue to work with these businesses, to help them create a supportive workplace that promotes a positive mental health culture. Find out more about PTSD at Work here
We at Red Umbrella provide all the services needed after a company/organisation has had its all important MHFA training, as the MHFA member of staff uses their skills to approach colleagues and enter into dialogue, who can they point them too, how can that person gain immediate access to help, and how can they be assured its anonymous and wont be passed to Internal HR or Managers. Find out more here
Matt Appleby is a professionally trained Yoga teacher, teaching the practices of asana (postures), efficient breathing (pranayama), relaxation and meditation. These are delivered as public and corporate classes, workshops and private tuition. He also runs Men's Yoga Collective, a Yoga and self development group, for men only. You can find out more about men's yoga here
His teacher training commenced in 2015 with the British Wheel of Yoga, attaining a Level 4 Diploma, the highest level regulated yoga
teaching qualification available in the UK. Matt has been teaching since 2017. 
Matt first came to Yoga ten years ago. As a former IT professional, Yoga truly transformed his life. Coming from a background in the stressful corporate world, it helped him recover from poor physical and mental health, and burn out. 
Private Yoga tuition offers you the time and space to learn at your own pace. Practices are tailored entirely for your own unique needs. This is yoga in its purest sense. Individual attention, passed down directly from teacher to student.
You can find out more about private yoga tuition here
Matt also offers wellbeing workshops to forward thinking organisations committed to investing in their workforce's wellbeing. These look at health from a holistic perspective, promoting proactive wellbeing. They include coaching of accessible practises to integrate into our daily routines, promoting vibrant health and balance.
You can find out more about corporate wellbeing here